Bray 2022 Handwired 22 Watt Custom Plexi Style Amplifier :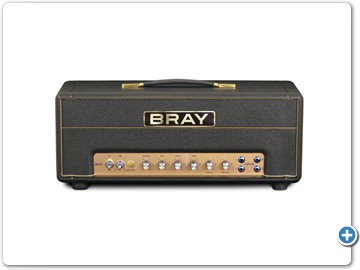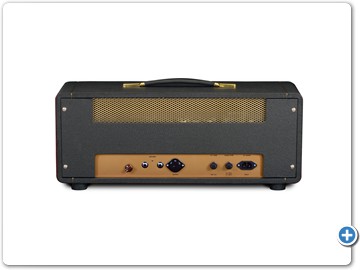 vista photo gallery creatorby VisualLightBox.com v5.9
With the increasing demand for lower power amplifiers, I offer the 2022. This amplifier was just unveiled at the 2013 L.A. Amp Show with excellent results. The power section uses two 6V6 output tubes, with the pre amp section using the standard three tubes found in the other Bray Plexi Style models. $2600 for the Standard model, and $2900 for the fully-loaded Deluxe model.

The Standard Bray 2022 features:
-Completely hand-wired, hand-soldered Point-To-Point turret board and components
-Precision tight-wound tube filament wiring design to eliminate AC filament hum
-Bray spec'd custom-wound transformers by Heyboer
-Gold color 16 gauge zinc-plated steel chassis
-3 ECC83 preamp tubes, 2 6V6 output tubes, 1 GZ34 rectifier tube
-3-way Standby Switch lets you choose between Tube and Solid State Rectifier, and is Bias-Compensated
-Output Level "Wife Knob" control lets you dial down the volume to whisper levels without losing gain or overdrive
-Plexi Style Channel 1 Bright and Channel 2 Dark channels allow you to mix each one into your sound how you want without the use of a separate jumper cable
-Plus Mode places the channels from parallel into series (as well as a few tonal changes), allowing even higher gain sounds.
-Your choice of tolex colors, at no additional charge
-(H) 9" x (W) 24" x (D) 8-1/4" , 27 lbs.
Lifetime Warranty
-A soundclip of your actual amplifier upon completion, in case any tweaking or adjustment is needed prior to shipping.
The Bray 2022 Deluxe also includes the following:
-NEW Gangster ™ Button affects the Channel 1 gain setting via a footswitch button. When the footswitch LED is ON, this causes the Channel 1 setting to go instantly to 10, from whatever setting it is set at. Have it on 5 for a classic mild breakup, then step on the button and bang, instant gain boost without a tone change distraction. Or, have it set lower for a clean sound, then hit the button for dirty. Very transparent.
-Dual Output Level "Wife Knobs" and included LED footswitch allows switching to a louder volume level for solos, as well as keeping your volume level loud when turning down your guitar's volume level for a clean sound
-Harmonic Switch push/pull switch added to the Treble Control, adding harmonics and upper mids when pulled out. I enjoy this with guitars that have somewhat scooped pickups such as vintage PAF styles.
-Vintage/Hot Switch push/pull switch added to the Midrange Control, allowing a slightly more aggressive tone when pulled out, and a mellower sound when pushed in. Useful when in Plus Mode, push it in to take a slight edge off, as well as for very clean sounds.
-Channel 1 Bright Switch added to the Channel 1 Volume Control, adding high frequencies when pulled out. Although bypassed when the volume control is all the way up, it is useful for Classic Rock sounds when the Channel 1 Volume is set around 6. Pulled out, it adds just a bit of "clang" to bring you out of the mix.



"2022 Standard – Clean tones, brown type tone"






"2022 Deluxe – Classic rock, brown tones, Plus Mode tone"






"2022 Deluxe – Clean by guitar volume down, swelling into brown tones. Strat w/ Duncan '78"






"2022 Deluxe - Brown tones. Strat w/ Duncan '78"






"2022 – Classic to Texas Blues to Brown"