Bray 4550 Handwired 50 Watt Custom Plexi Style Amplifier: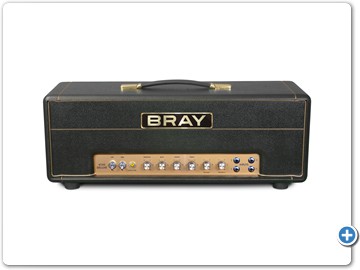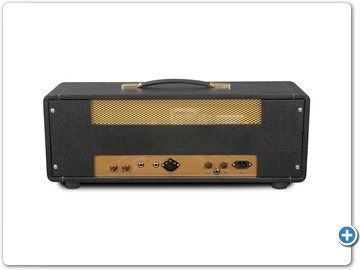 vista photo gallery creatorby VisualLightBox.com v5.9
A superior version of the famed vintage British 50 watt plexi, custom voiced to your needs, playing style, and existing gear. $2800 for the Standard model, and $3100 for the fully-loaded Deluxe model.
The Standard Bray 4550 includes:
-Completely hand-wired, hand-soldered Point-To-Point turret board and components
-Precision tight-wound tube filament wiring design to eliminate AC filament hum
-Bray spec'd custom-wound transformers by Heyboer
-Gold color 16 gauge zinc-plated steel chassis
-3 ECC83 preamp tubes, 2 EL34 output tubes, 1 GZ34 rectifier tube
-3-way Standby Switch lets you choose between Tube and Solid State Rectifier, and is Bias-Compensated
-Output Level "Wife Knob" control lets you dial down the volume to whisper levels without losing gain or overdrive
-Plexi Style Channel 1 Bright and Channel 2 Dark channels allow you to mix each one into your sound how you want without the use of a separate jumper cable
-Plus Mode places the channels from parallel into series (as well as a few tonal changes), allowing even higher gain sounds.
-Your choice of tolex colors, at no additional charge
- (H) 9" x (W) 26" x (D) 8-1/4" , 38 lbs.
Lifetime Warranty
-A soundclip of your actual amplifier upon completion, in case any tweaking or adjustment is needed prior to shipping.
The Bray 4550 Deluxe also includes the following:
-Dual Output Level "Wife Knobs" and included LED footswitch allows switching to a louder volume level for solos, as well as keeping your volume level loud when turning down your guitar's volume level for a clean sound
-Harmonic Switch push/pull switch added to the Treble Control, adding harmonics and upper mids when pulled out. I enjoy this with guitars that have somewhat scooped pickups such as vintage PAF styles.
-Vintage/Hot Switch push/pull switch added to the Midrange Control, allowing a slightly more aggressive tone when pulled out, and a mellower sound when pushed in. Useful when in Plus Mode, push it in to take a slight edge off, as well as for very clean sounds.
-Channel 1 Bright Switch added to the Channel 1 Volume Control, adding high frequencies when pulled out. Although bypassed when the volume control is all the way up, it is useful for Classic Rock sounds when the Channel 1 Volume is set around 6. Pulled out, it adds just a bit of "clang" to bring you out of the mix.



"Bray 4550 Deluxe, Plexi then plus Modes, Output Level set to talking volume"

 

 

"Sean Hanley using the Bray 4550 Deluxe in the song Ridin' (On The Outside) in his band Bandita"

 

 

3 comparison clips of the Bray 4550 Deluxe through the Scumback M75, M75-PVC, and BM75 speakers, using brown sound type settings

Scumback M75

 

 

"Scumback M75PVC"

 

 

"Scumback BM75"

 

 

"4550 Deluxe – Clean, brown tones, higher gain Plus Mode sounds"

 

 

"4550 Deluxe – Brown tones. Strat w/ Duncan '78"

 

 

"4550 Deluxe – Clean, clean funk, classic rock, brown tones. Note: Clean funk rhythm is actually with the amp set to Brown tones and the Les Paul's volumes turned down for clean"

 

 

"4550 Deluxe – Clean, classic rock, brown tones, higher gain Plus Mode sounds"

 

 

"4550 Deluxe – Clean, classic rock, brown tones, higher gain Plus Mode sounds"

 

 

"4550 – Brown tones. Strat w/ Duncan '78"

 

 

"4550 Deluxe - Jazz clean single coil through high gain brown"

 

 

"4550 Deluxe - Classic to high gain, very last part is PLUS mode. The first section is a Les Paul, the others are a strat copy w/ a Duncan '78 PAF in the bridge."

 

 

"4550 Deluxe - Classic to high gain, very last part is PLUS mode. The first section is a Les Paul, the others are a strat copy w/ a Duncan '78 PAF in the bridge."

 

 

"4550 – Strat blues feat. Bobby Moses Nichols"

 

 

"4550 Deluxe - '63 Strat clone using a vintage output Curtis Novak STR-V Strat set. The first two sections are with the amp in Mod I mode, the third section is with the amp in Mod I Plus mode."

 

 

"4550 - Higher gain, using a strat copy w/ a Duncan '78 in the bridge."

 








Bark at the Moon cover- Bray 4550 Deluxe by brian_detherow